Foster your child's curiosity for reading and writing
If your child dislikes reading or doesn't comprehend what is being read, schoolwork becomes difficult and frustrating. Each subject your child studies requires comprehension skills that come from reading, writing, and critical thinking. If your child lacks these skills, they will be less inspired in school which will compromise future success.
---
Our unique approach
The most valuable component of this program is the pyramid-like structure that is used to build stellar writing skills and powerful comprehension skills. Our approach involves establishing mastery in foundational areas and developing complex skills over a period of time as opposed to attempting to master each needed skill at once. Additionally, our teachers are passionate about building language skills and making learning fun. Your child will look forward to opening books and will find enjoyment in writing. Our goal is to nurture students in a way that allows for an intrinsic passion for literature and language.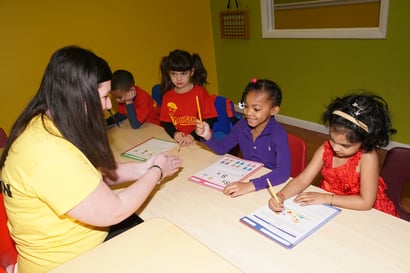 Features
• Accelerated learning
•Small, intimate class sizes
• Creative activities to avoid unnecessary repetition
• Fun, and inspiring atmosphere
---
Topics Covered
Phonics
Spelling
Sight Words
Vocabulary
Language Arts
Reading Comprehension
Writing