Free Math Resources
FREE- Get lots of great math resources delivered to your inbox today. Scroll down to subscribe to your free math resources today and receive all the free resources below. You'll be the first to discover exciting new tools and helpful resources that will allow you to educate your child to be a math genius.
What you will get when you complete the form below: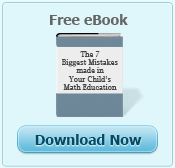 The 7 Biggest mistakes made in your child's Math Education
This ebook contains all the mistakes we have observed while teaching more than 500 children in the Genie Academy program. It has a ton of tooltips that explain what to do and the scientific research behind our recommendations.