Math Tutoring using Abacus Math
The Abacus is a cool toy for kids. It is the original Calculator. It can also be used to do Complex Math. Kids love using the Abacus to teach kids Math. The results are astonishing.
Can you do math faster than a 6-year-old? Watch this video before you answer!
---
---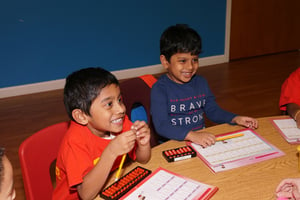 Genie Academy is fun
Kids enjoy working on the Abacus. It's like a toy. A very powerful toy. Kids love using the abacus as a tool and doing mental math challenges. Many Genie Academy kids even try to do extra work so that they can get their new books and do the trickier math computations! Math becomes fun.
---
Astonishing Mental Math
Your child will learn to do Mental Math. A lot of Mental horsepower is required to do Mental Math. Feat adults simply can't match. Watch the video below to see a 6-year-old child. According to the New York Times, "The first six years of life are a time of tremendous growth and change in the developing brain. Synapses, the connections between brain cells, are undergoing a major reorganization. Indeed, a 4-year-old's brain uses more energy than it ever will again." We find that kids until 11 years old can learn to do Mental Math.
A 6-year-old demonstrates mental math.
---
Awesome Teachers
Genie Academy teachers are awesome. They are committed to making the Genie Academy experience fun for kids. When the time is right, they shed their "adult" demeanors and act silly with the kids to make sure that the kids love the process of learning and growing. They adjust their teaching to particular needs and always know when to help and how to help. They are not only teachers but mentors, to the kids.
---
Small Class Sizes
Classes at Genie Academy have an absolute maximum of 8 kids per teacher for the Junior/Senior Genie kids. And 5 kids per teacher for the Toddler Genie kids. Kids receive individual attention from our highly-qualified and rigorously-trained teachers. At the same time, kids are able to experience a classroom setting with a fixed schedule and structure, as well as competitive games and rewards for their hard work. This classroom setting experience prepares our younger students for independence in a classroom environment and aids our older students in getting organized and self-sufficient. Parents love the mix of individual attention and classroom structure.
---
Astonishing Success Stories
Genie Academy parents have reported astonishing stories.
Somer A. of Franklin, Keya S & Rutu P of Hillsborough scored 100% in the NJ-ASK.
Justin S. of South Amboy scored in the Highest percentile Nationally in the Terra Nova test.
Michael S. of Milltown went from struggling to excelling in Math.