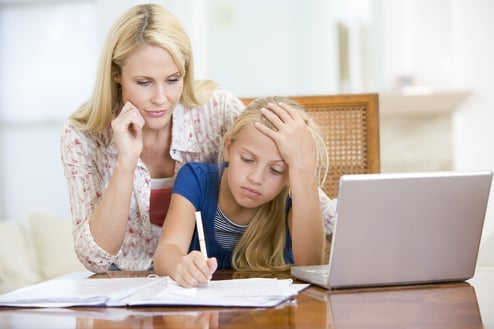 Homework time can be like the burning pits of hell for some parents, and I'm sure it can be pretty unpleasant for kids too. Think about it from their perspectives. They're in school all day filling their brains with beneficial knowledge, memorizing things, concentrating hard, not having to pay bills. And when they get home after a long hard day of learning, they probably just want to settle down by watching their television shows, listening to some tunes, or going outside to play with their friends. Do kids even still go outside to play anymore? Nevertheless, and irrespective of their settle down preferences, I would guess that at least 70 percent of kids would prefer to do something else, anything else besides doing their homework when they get home from school. Then here we come, as parents with no conception of the harsh realities of learning, to enforce the law of homework and a battle ensues.
Despite the humor of this post, the reality is that parents and children get stuck in the perceptual cycle that is homework hell all the time. For children that hate doing homework, they can be extremely avoidant, wait to the last minute to begin, give up half-way through, or forget about it all together. They may become angry when homework is forced upon them, act out, or drag the homework process out into the wee hours of the morning. When this happens, it can end in frustration for both parent and child. Frustration is something that we want to avoid because it can create an unhealthy dynamic and make everyone miserable! Fortunately, I have some suggestions that can remove you from purgatory and turn homework time into something that is tolerable.
Suggestion Number One: Start Early
Starting homework early will be beneficially to you both. Your child can get it out of the way and spend the rest of their day doing the things that they enjoy. Their brain functioning will be a lot better than if they were to try to complete it at their bed-time, and you both can enjoy sleeping for a substantial amount of time before having to get ready for the next day.
Suggestion Number Two: Try to Make It Fun
Why not make homework a game? This way you both can have fun and build some positive rapport. Creating games around homework is a creative way to get it done. This should be something that you individualize to your child but one idea that may work (if you're currently lacking the creative juices) is to schedule game breaks every 20-30 minutes to do flips or run a quick race down the block. These breaks can be a great motivator to get work done and can be based upon contingencies (e.g. "if you complete this page in this amount of time then I get to smoke you in a race").
Suggestion Number Three: Incorporate a Token Economy
Like suggestion two, suggestion three is also based on contingencies. But a token economy is a contingency plan on steroids. Not to alarm you, because a token economy is very easy to implement, it just takes a little more time than a spur of the moment race. It has to be planned, consistent, and well thought out. The basic principle of the token economy is that a child earns a certain number of tokens by engaging in desired behaviors (in this instance, doing their homework), that can be exchanged for things that they like. The tokens in the token economy is the currency that can be used to motivate your child to do homework. It gives you the power without the stress because you can either provide the reinforcement or withhold it based upon your child's performance.
1