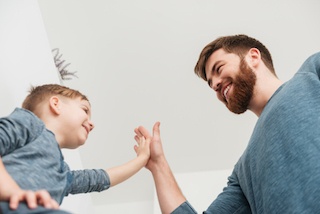 Imagine a day where your child returns home from school, shoulders slightly slumped, head down, and you as a parent are at a loss on what to do and how to cheer your child up? We've all had our rough days, times when we felt like we couldn't do something and moments where our self-esteem was just not our best friend. It's hard sometimes as a parent to see your child feeling as if they are not good enough, and questions may run in your mind. What do I do? How do I raise my child's self esteem? How do I build my child from saying "I won't and can't do it" into "I will and can do it?"
It's important to show your child that they can do anything they put their mind and heart to for many reasons. Self-esteem is a big factor in a child's growth and learning process. Here are ways to make sure your child sees the importance of loving and believing in themselves.
Praise your child when he/she does a good job. Children receive a huge boost in self-esteem when they know they are doing a job well done, and that their efforts are being noticed and appreciated. Letting them know how well they are doing, or how proud of them you are, will raise their confidence and keep trying their best.
Don't be critical when they make a mistake. In general, try to be less critical on them. Just like positive words have an effect on them, negative words do too. When they make a mistake, remind them that it is OK, and that you are not angry with them.
Remind them that if you fall once, get up and try again. This is the motto your child should know. Their mistakes do not define them, but how they react to them is what you can help them with. Encourage your child to always keep trying, and to learn from their mistakes. Falling down is alright at times, but make sure they know they always have a hand to pull them up when they need.
Don't let them compare themselves to others. Your child is perfect the way they are. They should not be thinking that they are not as good as someone else. Make sure you always remind them to be the best version of themselves instead of trying to compare or compete with someone else. (Don't compare them to others)
Make sure they know that at the end of the day, no matter what happens, they are (Unconditional love) loved. Your child will always be your child. They should know that they are loved through all the highs and lows, and that they should love themselves just as much. Confidence is a growing factor, and they will learn that positive self- concept is a meaningful thing.
Here at Genie Academy we try to instill and encourage these values because we know how important it is to have a good self-esteem. Raising a child's self esteem is one of our core values and we do through many things. We reward hard work and good effort through several means. Whether it's giving a high five, or using words of praise and compliments, or giving a prize, we like them to know we care about them. It is always worth seeing them smile and putting more time into things. Also, if the child makes a mistake, we always encourage them to try again, and help them when they are struggling. If they are hard on themselves, we advise them against it as well.
Self-esteem building is so important, as a parent and a child. At Genie Academy, your children become our children and we do everything we can to make them realize that they can do anything. Our main objective is at the end of the day to hear a child say, "I can do it if I put my mind to it!" So come in today for your child's free assessment to help them find their greatness!
1