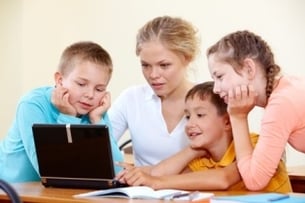 Everyone knows that screen time is harmful and should be limited especially for young children, right? Well I'm not too sure about that. Yes there are some precautions that should be taken but to say "absolutely no screen time" does not allow your child to fully grow and development with their peers. Additionally, in this age of exponentially growing technology, there are many everyday advances that screen time provides which simply cannot be ignored.
"Exposure"
We have to deconstruct this notion that screen time is inherently bad. The term "exposure" was used freely to discuss screen time and its negative impacts. When I see this word "exposure" I think toxic waste, or radiation poisoning. Yuck! That is not what I would want around my child at all. So it's no wonder that there is such a controversy, as preconceived notions about screen time battle with new studies by the American Academy of Pediatrics, the Child Learning Lab, and other child development experts.
These new studies break down what can help and what can hurt your child as they interact with screens. First and foremost, there is a universal agreement that screen time should be limited. There are valid concerns about the negative impact too much screen time can have on a child's physical activity and interpersonal developments. Also, online bullying and teen mental health issues have often been a result of too much screen time.
How Much Screen Time Your Child Should Have
These factors cannot detract from the benefits of screen time. Instead, the American Academy of Pediatrics has updated the standards to incorporate healthy screen time with healthy off-screen time.
18 months and younger: Avoid use of screen media other than video-chatting.

18 to 24 months: Choose "high-quality programming" such as educational shows or online early education tools. Participate in these programs with the child to help them understand healthy screen time.

2 to 5 years: Limit screen use to 1 hour per day of high-quality programs. Continue to participate with the child to help them apply the tools they see to the world around them.

6 years and older: Limit screen time and the types of media being used. Make sure screen time does not interfere with sleep, physical and social health, and other childhood responsibilities.

Create and adhere to media free time and places. Dinner time or family night should be "unplugged." Designating barriers on screen time and no screen time allows the child to learn how to interact without media.

Continually

educate your child on proper online behavior. Teach them about the safeties and dangers of media as well as the importance of respecting others online and offline.
Passive Versus Active Screen Time
One thing touched upon here is the difference between passive screen time and active screen time. As an infant, most of the screen time would be passive, such as watching videos or educational programming. This passive screen time should stay limited as the child matures. Active screen time, such as creativity and enrichment projects, should be gradually introduced as well as carefully monitored. An amazing resource from the American Academy of Pediatrics, the Family Media Planner, can help parents schedule active and passive screen time to ensure this does not interfere with the rest of the child's development.
Enrichment Versus Consumption
As another word of caution, parents should not to cling too tightly to the schedule. Yes, I said that screen time needs to be monitored and limited, which is true, but it should produce the greatest effect on the child as possible. The key is enrichment, not consumption. So while you should look when your child is having screen time, you should also understand how your child is having screen time. In addition to the time based regulation, parents need to help children determine what they want to do with their screen time – does she want to learn about art and architecture or does he want to understand more about engines and mechanics? This is how screen time should be utilized and optimized.
Screen Time in Today's World
It follows that the fears of screen time are becoming outdated as the benefits of screen time are more widely understood. The Wall Street Journal says " 'Extraordinary learning' is what happens when children's interests turn to passion, and a combination of tech and the internet provides a bottomless well of tools, knowledge and peers to help them pursue these passions with intensity characteristic of youth." New studies and works are continually being published on the advantages of screen time. The Art of Screen Time—How Your Family Can Balance Digital Media and Real Life a book by Anya Kamenetz will be available shortly at your local bookstore. This is the first of its kind, an indispensable guide for parents struggling with the ins and outs of screen time.
The dangers of too much screen time still hold true. However, the screen is nearly unavoidable and completely essential for today's child. A generation or two ago this was not the case, but as the world evolves so does technology. Completely denying the child this technology out of fear is drastically disabling their abilities to learn to interact with a technology based world as well as putting them far behind their peers. Instead, there are ways to create healthy online screen time behaviors that will aid and not hinder your child's development.
For more information about the benefits of screen time please see the following articles:
How Dropping Screen Time Rules Can Fuel Extraordinary Learning
1